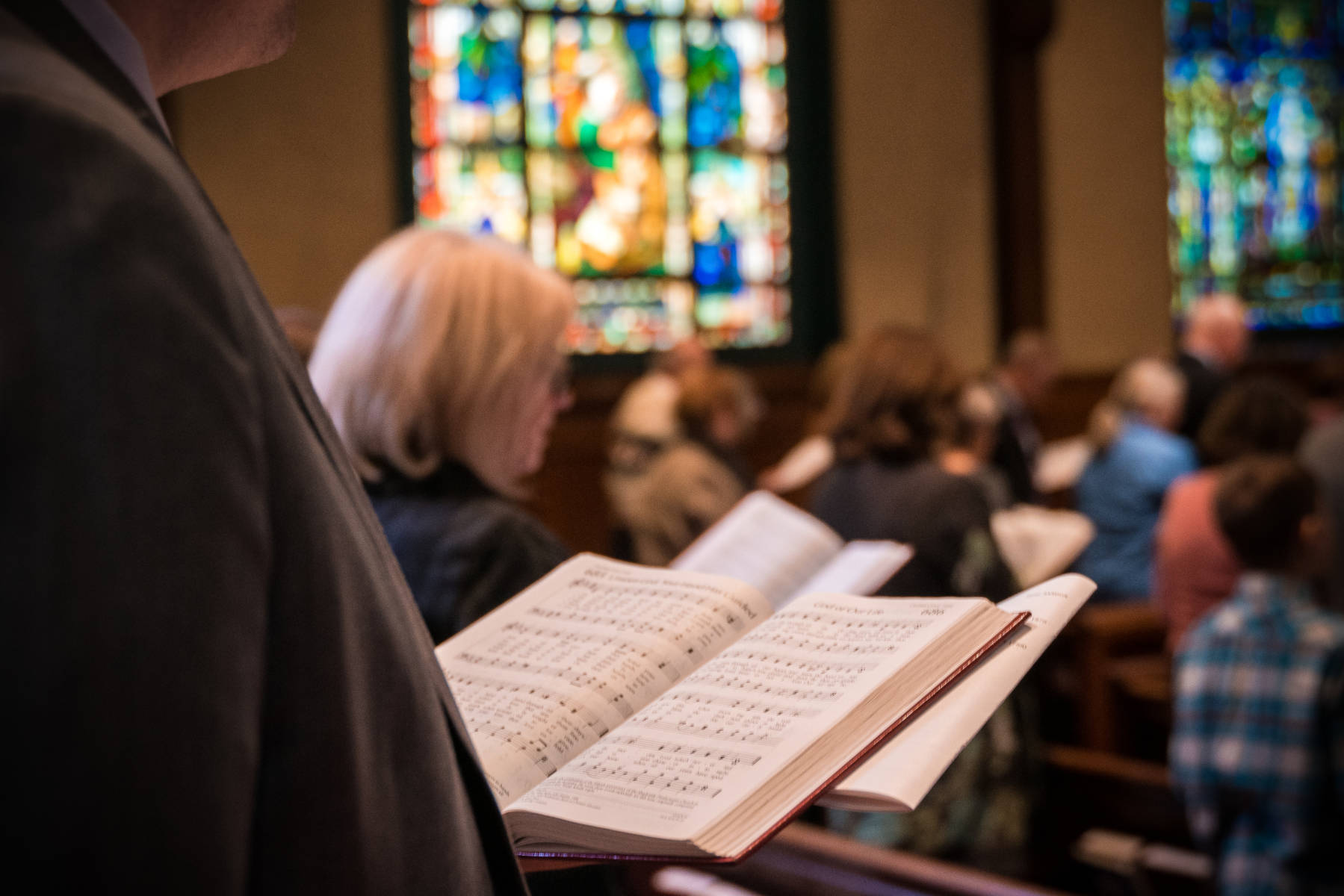 The center of our life together at First Pres is worship.
When we come together into the presence of God, we allow ourselves to be drawn into a Holiness so much bigger than we are. As we worship together, we learn more about who God is, and who we are—and, even more importantly, whom God is calling and equipping us to be. We welcome all people to a warm, Christ-centered worship services at a variety of times during the month.
During the summer, we have one service at 10 a.m. We also offer Playground Church that runs concurrent to the worship service in the Sanctuary for children, families and the young at heart.
Due to safety guidelines in place in response to the current pandemic, in-person is only offered at 10:00 AM with reservations made in advance and limited seating (beginning October 11). You may also join us via livestream every Sunday at 10:00 AM on YouTube or Facebook Live.
Sunday Worship, 10:00 AM Reservations required, limited seating
Our Sunday Worship Service is held in the sanctuary. As you sit under the beauty of the Tiffany windows, let the beautiful music lift your spirit. The sounds of the glorious Casavant organ and congregational musicians singing praises to God with historic and more recent hymns. The preaching connects Scripture with our daily lives and contemporary issues. The joys and concerns of worshipers are lifted up in prayer together. Communion is offered on the first Sunday of each month and baptisms are often celebrated on the second Sunday of each month. Reserve your spot in the sanctuary.
We are currently not gathering for in-person fellowship, but you are invited to join us for our virtual fellowship via Zoom after worship!
Family Worship, Sunday 1:00 PM Online only
An online, pre-recorded worship service. Families come in all shapes and sizes; even if you are a household of one, you are part of our family. This is for you too! This service, no longer than 30 minutes, will include all elements of worship to be enjoyed by all. Videos will be available Sunday afternoons and can be viewed anytime on YouTube and Facebook.
Taize Prayer Service, Wednesday 7:00 PM Limited seating
An intimate worship experience when we can step back from everyday life to be refreshed and encounter God in the silence. Without preaching or teaching, this is a gracefully simple service of contemplation in a prayerful setting, with scripture, prayer, song, silence, and light. Every Wednesday at 7:00 PM in the Chapel with limited seating or online on YouTube and Facebook.
Sunday, September 6
Rev. Kristie Finley
Sunday, September 13
Festival Sunday
Rev. Clint Roberts
Sunday, September 20
Rev. Clint Roberts
Sunday, September 27
Rev. Clint Roberts
Childcare is not offered at the moment due to safety guidelines in response to the pandemic.
Professional, loving childcare is available in the nursery every Sunday morning for infants and toddlers up to 36 months old. The nursery is a safe, nurturing and developmentally appropriate space for children to begin experiencing God's love through the care of our church family. Parents are invited to leave a mobile phone number with our caregivers so they can be notified if their children need them. Please note that we do not provide snacks.
Childcare Hours
8:30 A.M. TO 12:15 P.M., LABOR DAY – MEMORIAL DAY 9:30 TO 11:30 A.M., SUMMER
Get Involved
You can participate in worship services by being an usher, greeter, liturgist or communion server. Please click the links below to sign up or get details about each ministry: