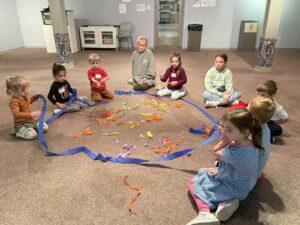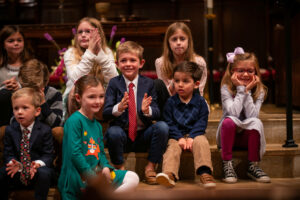 Exploring our faith and helping families to raise children who love God and love others.
Register for Faith Formation
Sunday Morning Faith Building
For children ages 3 years through 4th grade
September 10 through May 19
Children start the morning in worship with their families and leave for Faith Building in the upstairs classrooms following the Blessing of the Children for a time of Bible lessons and exploration. On Communion Sundays (the first Sunday of the month) we will be meeting in the Chapel. We will join our families in worship for Communion.
We ask that parents and caregivers pick up their children in their classrooms following worship.
Held on the first Sunday each month, beginning Sunday, October 1 through May 5.
The children will start in worship in the Sanctuary and go to Sunday School in the upstairs classrooms after the Word for Children. From Communion to Confession to Passing the Peace to Baptism and Hymns, each month we will learn about the different parts of worship.
Children will return to the Sanctuary during the "Gathering Song" and join their families and participate in Communion.
Professional, loving childcare is available every Sunday morning. The nursery, located on the 2nd floor, is open 15 minutes before worship begins and is for infants and toddlers up to 36 months old.
The nursery is a safe, nurturing and developmentally appropriate space for children to begin experiencing God's love through the care of our church family.
Parents are invited to leave a mobile phone number with our caregivers so they can be notified if their children need them. Please note that we do not provide snacks.
Teach Sunday School
We are always looking for new volunteers to help teach and assist during Sunday school. No previous experience required, and training is provided. Sign up to let us know you're interested!
Spend your Wednesday evenings at First Pres!
Beginning Wednesday, September 13, 2023
     Carol Choir (children in 2nd through 8th grade)
     Cherub Choir (ages 4 years to 1st grade)
Children's Choirs sing once a month in worship and on Christmas Eve at the 5:00 service. The children will present the annual musical during worship on February 25, 2024.
Wednesday Evening Faith Building
6:00 - 6:30PM
For ages 3 years through 4th grade
After children have their supper, they are invited to explore Bible stories with fun activities while parents and caregivers enjoy fellowship at Wednesday Night Supper.
5:30 - 6:45 PM
Come and go as you please, and bring your friends and family for a catered supper and fellowship.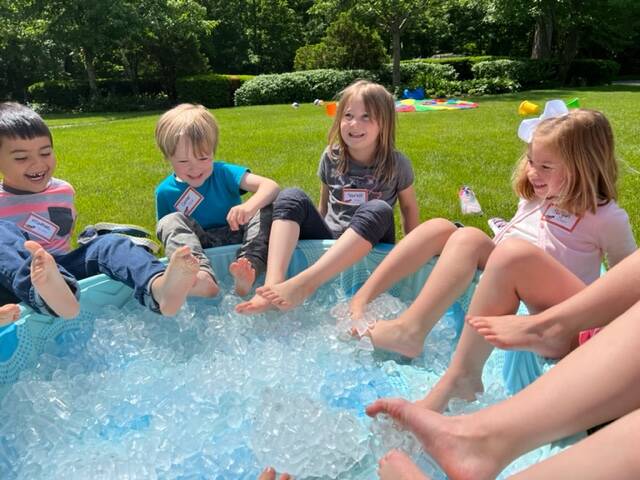 Each summer, First Pres hosts a Vacation Bible School for church and community families to come together and explore Bible stories through a variety of activities. If you are interested in getting involved to help plan our next VBS, please contact Pastor Kristie Finley at kfinley@firstchurchlf.org.
10:00 a.m. Memorial Day through Labor Day
Children, families and the young at heart are all invited to join us at the playground where we will play for a while before gathering together to explore a bible verse or story and respond with additional outdoor games and crafts.
Children's Special Events
Save the dates for these Children & Family Church Events!
September
10 - Festival Sunday
24  - Kindergarten Bible Sunday
October
15 - Movie Night
November
26 - Advent Wreath Making & Dinner
December
16 - Christmas Pageant Rehearsal (9:00 AM - 10:00 AM)
17 - Christmas Pageant (9:30 AM worship)
February
14 - Ash Wednesday
24 - Children's Musical Rehearsal
25 - Children's Musical
March
28 - Maundy Thursday
31 - Easter Egg Hunt
April
21 - Earth Day
May
19 - Senior Sunday & Fly-Up Sunday
Our First Pres children and families enjoying learning about God and growing their faith together.