We believe that the music we play and sing, as an expression of our faith, is both a gift from God and an offering to God.
The music and arts ministry of the First Presbyterian Church of Lake Forest seeks to uplift the congregation in worship and in life through a diverse selection of music that speaks to the minds and hearts of all generations. We celebrate the value of both the old and the new.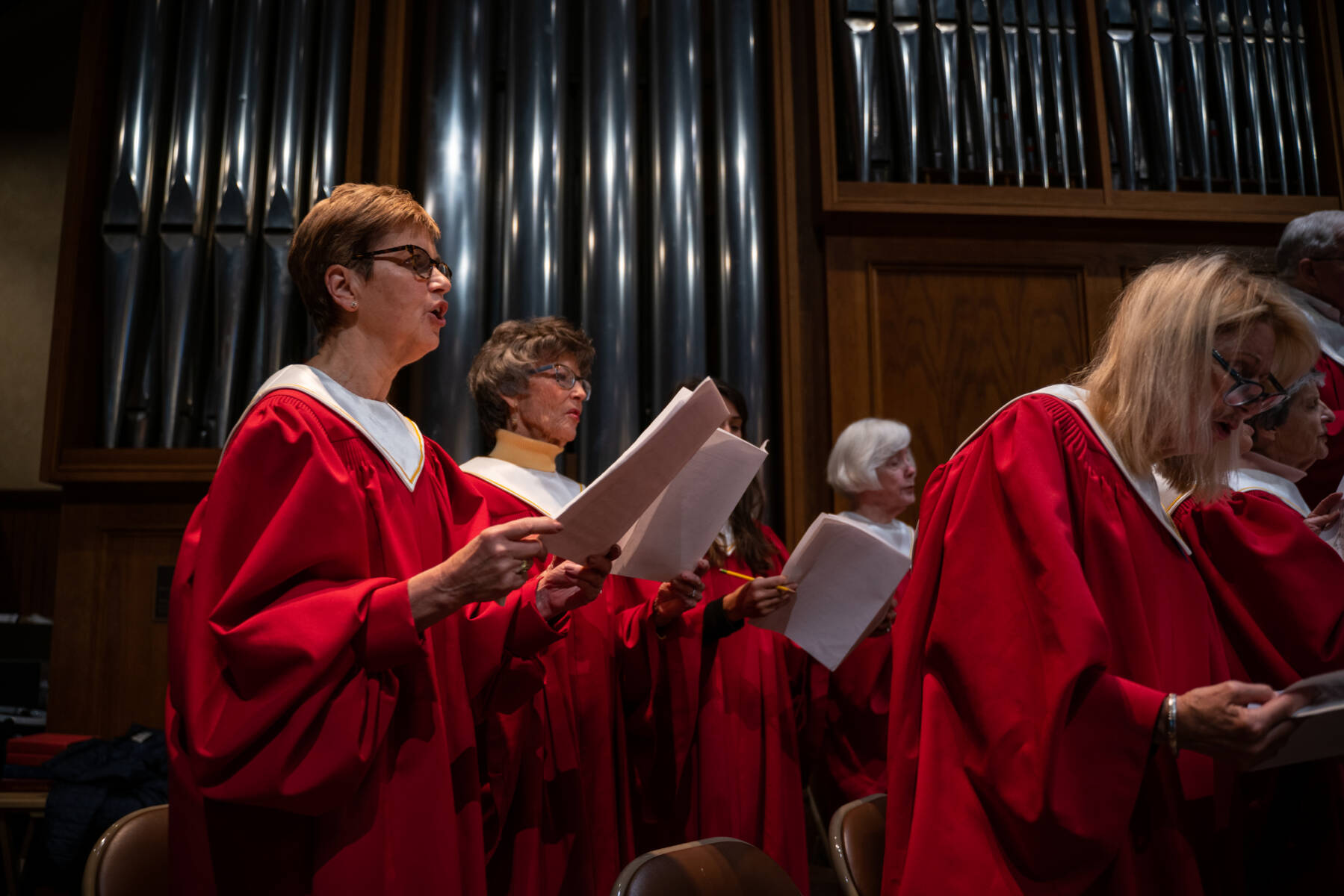 The Sanctuary Choir rehearses on Thursday evenings from 7:00 to 9:00 PM. High school-aged and adult singers are encouraged to participate—no audition required. The Sanctuary Choir leads worship on a varying schedule. They also lead special music services and concerts throughout the year, such as the Messiah Project in 2018-19, in which the entire Messiah was sung over four different worship services. All are welcome! If you are interested in joining or have any questions about the Sanctuary Choir, contact Dr. Robert McConnell, Director of Worship and Music, at rmcconnell@firstchurchlf.org.
Adult and Youth Handbell Choirs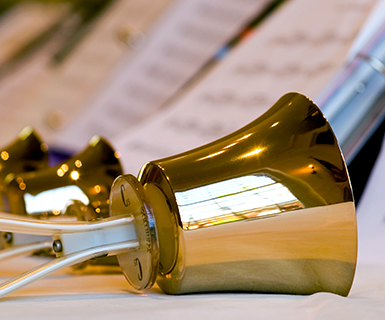 First Presbyterian's music ministry offers two adult handbell choirs.
The Lakeminster Ringers meets weekly (schedule TBD). This experienced group of ringers play in worship once a month and for special church and community events.
The Chancel Bells also meets weekly (schedule TBD). This group includes both experienced ringers and beginners. If you are interested in learning a new skill and having a lot of fun, this is the group for you! The Chancel Bells play in worship approximately once a month.
We hope in the future to offer a Youth Chime Choir for children grades 3 through 8. There are up to 10 ringing positions to fill! No previous musical experience required. This choir would also participate in worship several times each year.
Our children's choirs welcome children age 4 through 8th grade. The children participate in worship monthly, sing on Christmas Eve, and present a musical during worship in February. No previous musical experience is required. All are welcome! Rehearsals begin in September.
Children age 4 through 1st Grade sing in our Cherub Choir, which meets on Wednesdays from 5:00 to 5:30 p.m.
Children grades 2 through 5 are in our Carol Choir, which meets on Wednesdays from 4:15 to 5:00 p.m.
Please don't hesitate to contact us with any questions. Email Susan Noble at childrensmusic@firstchurchlf.org.
We invite musicians to participate in the musical ensemble to play during worship, led by Christina Maldonado and Nathan Fivecoate. The Worship Ensemble leads music and prayer offering on Wednesdays at 6:30 PM, and participates in the Sunday service at 9:30 AM once a month.
Some experience is great, but definitely not required. We are excited to coach musicians of all levels, so come join the fun on Wednesday evenings in the Sanctuary! If you are interested, please contact Christina Maldonado at cmaldonado@firstchurchlf.org.
First Presbyterian Church Music Tours
Over the past 40 years, our singers and ringers have had the chance to witness God's love in Jesus Christ on various music tours.
1979 Scotland (Sanctuary Choir)
1982 Germany & Switzerland (Lakeminster Ringers and Sanctuary Choir)
1985 England & Wales (Lakeminster Ringers and Sanctuary Choir)
1988 England (LakeminsterRingers)
1991 Canadian Maritimes (Sanctuary Choir)
1992 Wales & Ireland (Lakeminster Ringers)
1996 Prague, Vienna, Budapest (Lakeminster Ringers and Sanctuary Choir)
1999 Poland & Germany (Sanctuary Choir)
2003 Scotland (Lakeminster Ringers and Sanctuary Choir)
2007 Italy (Lakeminster Ringers and Sanctuary Choir)
2011 Ireland & Northern Ireland (Lakeminster Ringers and Sanctuary Choir)
2014 Latvia, Estonia & Finland (Lakeminster Ringers and Sanctuary Choir)
2019 Netherlands (Lakeminster Ringers)
TBD Portugal & Spain (Lakeminster Ringers)