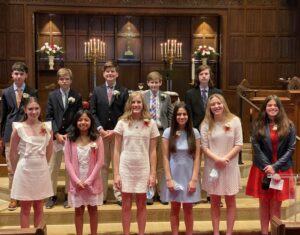 Confirmation is a time for 8th graders to explore their faith, learn about the Christian and Presbyterian traditions, and grow in community with one another.
When a baby is baptized in a Presbyterian Church, the parents and the whole church make vows to lovingly raise that child in the Christian faith. When you reach a certain age (in our church it's 8th grade), you are given the opportunity in confirmation to claim that faith as your own.
Confirmation 2022-2023 Schedule
The 2022-2023 Confirmation Class will have its first meeting on Wednesday, September 21st, at 5:00pm in the Stuart Room. The class will meet weekly on Wednesday evenings through the year, with exceptions for Thanksgiving/Winter/Spring Break. Check back to this site in the coming days when this year's schedule will be posted!