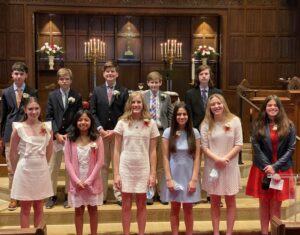 Confirmation is a time for 8th graders to explore their faith, learn about the Christian and Presbyterian traditions, and grow in community with one another.
When a baby is baptized in a Presbyterian Church, the parents and the whole church make vows to lovingly raise that child in the Christian faith. When you reach a certain age (in our church it's 8th grade), you are given the opportunity in confirmation to claim that faith as your own.
Teachers and Assistants are needed for each Wednesday evening Confirmation Class.  If you are interested in getting involved, you can SIGN UP HERE or contact Anne Winebrenner.
Confirmation 2023-2024 Schedule
Anne Winebrenner is available for any questions following worship on September 10 or before and after the first class on Wednesday, September 20.
Confirmation class begin on Wednesday, September 20 and will meet each Wednesday, 5:00 - 6:00 PM in the Stuart Room. For more information contact
Anne Winebrenner at awinebrenner@firstchurchlf.org.
Confirmands are expected to attend class each week. If a situation arises in which they cannot be present, please let Anne Winebrenner know as soon as possible, and complete the appropriate make-up assignment. Please note, part of the confirmation process is being part of the church community. As such, class should only be missed due to illness or emergency. While they will still learn the information completing the make-up assignment, they miss out on a crucial part of the journey.