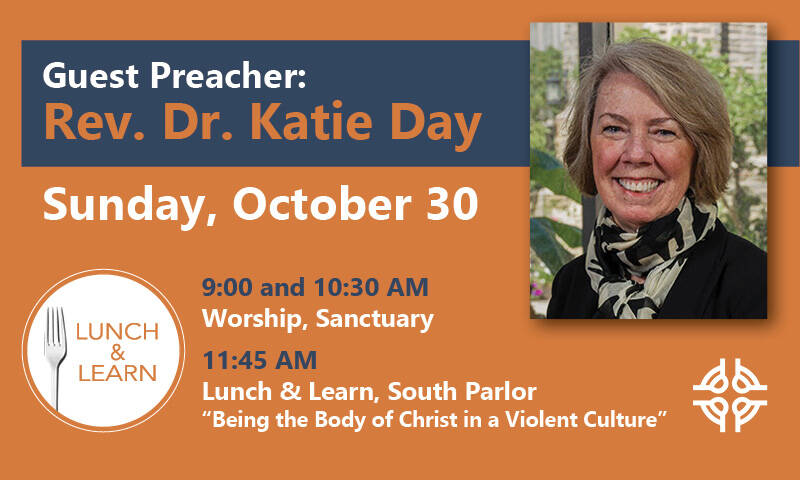 Rev. Dr. Katie Day will be guest preaching in our 9:00 and 10:30 AM worship services, followed by a Lunch & Learn on "Being the Body of Christ in a Violent Culture." Sign up today by emailing Sarah Seccombe at sseccombe@firstchurchlf.org or calling 224.544.1958. You may also sign up in person at church on Sundays, October 16 and 23.
About the topic:
In recent years we have seen a rise in gun violence, including in houses of worship. "Church shootings"—previously unimaginable– has entered our lexicon. How are communities of faith responding to this threat of violence? Katie Day will draw on her recent research on congregational understandings of safety and security, the practices that we are adopting, and how they are related to our identity and mission.
About Rev. Dr. Katie Day
Katie Day is a sociologist and a theologian, and is the Schieren Professor Emerita of Church and Society at United Lutheran Seminary in Philadelphia. She has authored four books, (including, Faith on the Avenue: Religion on a City Street), and has co-edited four volumes (most recently, The Routledge Handbook of Religion and Cities and The Brill Companion to Public Theology), and is published in numerous collected volumes and journals. Dr. Day's social research focus has been on the intersection of religion, race, and violence. In recent years, she has been studying the relationship between faith and firearms. She and her husband Jim Sicks now live in Cambridge, Maryland.