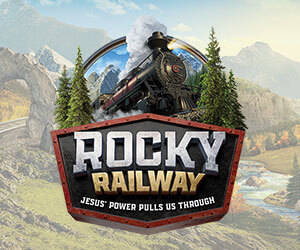 Climb aboard for the adventure!
Beginning Monday, June 8, with new content available each Monday for a total of five weeks.
The Children's Faith Formation Committee is proud to offer a free virtual VBS this summer.
Each week, pre-recorded videos will be available for anyone to access through the church's website.  You will be able to press play to watch "Bible Adventures - Elementary Ages," "Bible Adventures - Preschoolers," "Imagination Station," "KidVid - Elementary Ages" and/or "KidVid- Preschoolers" at your leisure.  Watch them all in a row, save them for a rainy day, or watch one per day throughout the week - use them in the best way that works for your family.
To kick-off each week, for families who register, a private Zoom link will be emailed where children can join Miss Sarah for a time of welcome, dance and sing-along to our favorite VBS music, Bible Buddy intro videos and other introductions for the week's lessons.
If you would like to enhance your VBS experience, you can opt into purchasing a VBS Supply Bundle Kit through your registration below.  For $20/family, each kit will include:
1 set of Bible Buddies per student
1 Watch for God Wristband per student
1 "Little Kids Bible pack" for each preschool student
1 "Tracking with Jesus Bible Book" for each elementary aged student
1 set of 5 Imagination Station gizmos per student
1 CD per family
If you have any questions or concerns,
please contact Sarah Seccombe at sseccombe@firstchurchlf.org or (224) 544-1959