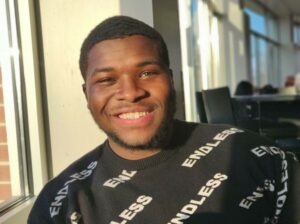 Hello members of First Presbyterian Church! Near or far, I hope everyone is in good health and finding piece of mind during this difficult period of COVID-19.
I want to begin this update by reaffirming my thankfulness for this scholarship. It has been several weeks since our cohort of Plansoen Scholars was introduced to the First Presbyterian of Lake Forest community. This scholarship has been a blessing to my academic journey at Lake Forest and has taken a significant burden off the shoulders of my family. Furthermore, being able to do God's work among a group of devoted believers is special and propels me forward.
As we all know, this year has been nothing short of a rollercoaster. From the injustices against people of color to the 2020 election cycle, this has created a plethora of different emotions that requires us to take a step back and take care of our mental wellbeing. Myself, along with my other cohort members, are nearing the end of this semester and I have several tasks that need to be tended to: I have a final paper for my "Campaigns and Elections" course that I have begun to work on which will focus on political themes prevalent in our society. I am also beginning the process of studying for my final exams and preparing to finish the semester out strongly. Additionally, I am in the process of finding an internship for the summer of 2021. I am a double-major in Politics and Economics and am looking for something in international affairs and the legal field. Due to the volume of my schoolwork, I have not been able to accelerate this process as much as I would like but, as my mother commonly says, "onward and upward!"
My family and I are doing well, and we are maintaining strict health protocols. My mother is a professor at Eastern Illinois University and teaches her courses at home via Zoom. My dad has his own transportation business, and he is working throughout the day. My friend from the College has been sheltering in place with my family for several months and we do what we can to contribute to the flow of the household by buying groceries, cooking, and cleaning up around the house. We go to the gym consistently to accomplish fitness goals and keep each other motivated.
Looking forward, my biggest update currently is that I will be getting surgery on December 18th. For those who were not informed, I played rugby the past couple of years at LFC and I partially tore the meniscus in my left knee during a practice earlier this year. Due to familial duties and the pandemic, I was unable to get surgery, but I have spoken with my parents and believe this winter break is the best time. I am asking for the prayers as I undergo this procedure and hope for a full recovery in the next couple of months.
Blessings upon every member of the Church and I look forward to the day where we can convene in person. Have a safe holiday season and please stay safe during these tumultuous times.
With peace and love,
Carlson Ayanlaja