The Baptism of the Lord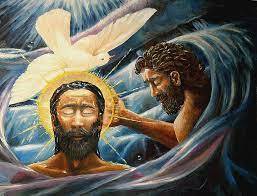 "Let it be so now; for it is proper in this way to
fulfill all righteousness."  

-Jesus of Nazareth (Mt. 3:15)
Jesus' public ministry lasted only three short years,  and all four gospels agree that he began his ministry at the Jordan River when he chose to submit to the baptism of John.
According to Matthew, John recognized Jesus as the long-awaited Messiah: the One whom God had called to John to prepare the way for in the wilderness of Jordan.  Thousands of people from all over Judea had come to John seeking a baptism of repentance for the forgiveness of sin.  Jesus needed no such baptism—and John above all others understood this.  He said to Jesus, "I need to be baptized by you, and do you come to me?"  Jesus replied, "Let it be so now; for it is proper in this way to fulfill all righteousness."
When Jesus spoke these words, he was thinking of you.  He was thinking of all the people who through their own baptism would one day bear his name.  Jesus knew that even the best of us will never be fully righteous.  As St. Paul said, "All have sinned and fall short of the glory of God…There is no one who is righteous, not even one" (Romans 3:11, 23).  So what did Jesus mean by saying that his baptism by John was the way "to fulfill all righteousness"?
In humbly submitting to a baptism he did not need, Jesus identified himself fully with our own deep need for forgiveness and newness of life.  In other words, Christ came to fulfill our righteousness.  In Paul's words, God made Christ "to be sin who knew no sin, so that in him we might become the righteousness of God" (2 Corinthians 5:21).  This is what John and Jesus accomplished so long ago in the Jordan, for all who would trust and believe.
This Sunday at both 9:00 am and 10:30 am, there will be a Service of Renewal where you will be invited to come forward to receive a token of your baptism and be blessed by one of our pastors.  How glorious and gracious it is to realize we don't need to achieve our own salvation!  Through the waters of his baptism and the blood of his cross, we have been fully accepted.  We are beloved sons and daughters of God who are living into the promises made at our baptism: into newness of life–until our baptism is complete.
Thanks be to God for the gift of baptism!
-Pastor Clint