Welcome to Compassion Camp 2021:
Changing the World with lovingkindess!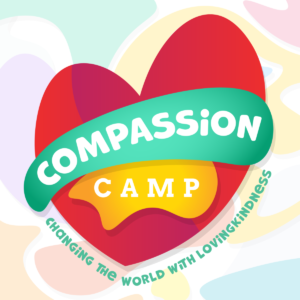 Vacation Bible School (VBS) is changing things up this summer
with a new curriculum and a new schedule.
Wednesdays 3:30 – 5:30 pm
June 2, 9, 16, 23, & 30
We will meet each Wednesday afternoon throughout June where we will cultivate compassion for each other, ourselves, and the world. What is lovingkindess? It's the utmost form of selfless love toward ourselves and others.
Join us every Wednesday in June, or the days you are available!  We will begin with some gathering & music time, and over the course of the afternoon hear a Bible story, have some creative & play time, games & movement (such as yoga) time, practice lovingkindness, and some arts & crafts.
—
Can't join us in-person but still want to participate?! Each week a new virtual Compassion Camp slide will be available that contains links to videos for all the activities to participate at home in the best way that works for your family.
** We plan to meet outdoors each week,  and will follow CDC guidelines as everyone's safety is a priority.
We hope you will stay and join us for our Wednesday Night Suppers following VBS.