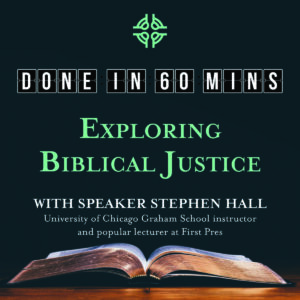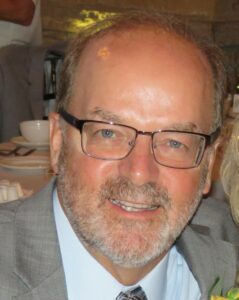 This summer, Adult Faith Formation (AFF) invited church members to participate in "Done in 60 Minutes" lectures on "Justice in the Bible" by Steve Hall, University of Chicago Graham School Bible Scholar and frequent guest speaker at FPCLF. New lecture links were posted on the church website every other week, and the congregation was also invited to Wednesday night Q&A discussions with Steve by Zoom.
Because of COVID, Steve wasn't in person at church, ready to speak between the nine o'clock and eleven o'clock services. How did it go? Telemedia metrics showed that we would have filled the Chapel every Sunday if the viewers had been at church instead of watching at home. In fact, we would have had an overflow crowd at the first lecture!
If you missed Steve's talks, you can still watch his lectures and download the powerpoint slides on this blog post, or on the church's YouTube channel (the handouts are in the video caption)
But, unfortunately, the small weekly discussion groups held in July and August have concluded. About 13 people (outside of the AFF Committee) regularly attended one of these "Zoom" discussions for each lecture. These were opportunities to ask deeper questions about God's Justice, such as,  'Why does God allow or cause bad things to happen to good people?' using the lens of biblical events (the Flood, the Exodus, the Exile, the Crucifixion) to instruct.
The discussion on "Lecture 4: Divine Justice" was particularly fascinating and touching. One member summarized in these words, "We got into trying to figure out what to do by looking at what Jesus did. He reached out constantly to the outcast, but really didn't start a movement to challenge secular authority. Also got into how he didn't let his disciples go say goodbye to their families. Steve said he felt Jesus was looking for single, unattached people who could devote all of their efforts to his ministry."
We missed many of you at these discussions! (In the pre-pandemic days we had 15 to 30 people in attendance.) We invite you all to share ideas on how to make it easier to participate in Wednesday night discussion groups, now that we aren't meeting in person in the Stuart Room any more! Keep an eye out for communications from the Adult Faith Formation Committee to be able to share your input on this series and our future offerings!
Please take the opportunity to tune into the lectures on YouTube or the Church's website, and explore 1: Justice in the Bible, 2: Justice in Human Relations, 3: Justice between Humans and God, and 4: Divine Justice in the World. This is an opportunity to process current heartache and antagonism with a biblical lens: "What would God have us do?"
Responding to the final lecture, more than one viewer noted how moving it was  "because Steve shared how this whole study has affected him personally. He said it has been one of those transformative moments in his life!" We hope it might be in yours as well.