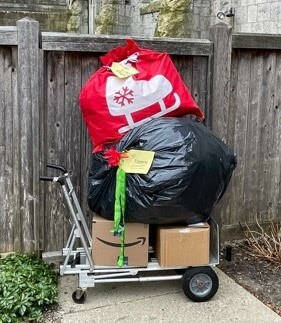 If the only thing you didn't receive enough of this holiday season is extra storage space, maybe rummage can help?
For a limited time only, we are able to open our drop off lobby in the following dates:
January 4 – 8  8:30 to 11:30 AM
January 11 – 15  2:00 – 4:00 PM
On our WISH LIST: 
Holiday decorations, toys, 'treasures', jewelry, purses, gaming systems, games, DVD's, sporting goods, luggage, baking and cooking items, home decor, clothing and shoes of all sorts.
Due to our limited space and the current online selling format, there are a few items we just cannot accommodate at this time and ask that you refrain from bringing them.  
Please

 NO

 furniture, NO books, NO stereo equipment, NO linens/ towels, NO garden, NO art, NO rugs
Items should be damage free and in working condition.
Thank you for your continued support of Rummage Mission!!!
PS: Our first online sale of 2021, "WINTER FUN" will start: Friday, January 15 at 4:45 PM.
The Winter Fun sale will feature snow sports gear and other items.
 A new feature for 2021: a preview of the upcoming sale items will go live the night before. This way you'll have a chance to see and read about items in advance of the designated purchase start time.
FPCLFRummage.givesmart.com