Over the next few weeks, we will be highlighting our Plansoen Scholars so you can get to know them more after meeting them at Festival Sunday! Our first scholar is Gabriel (Gabe Anzeze).
Gabriel (Gabe) Anzeze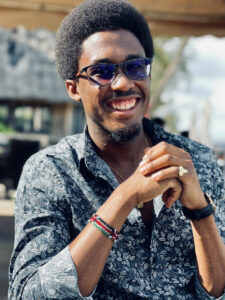 Gabe is a rising senior at Lake Forest College majoring in Economics and Politics. He grew up in Nairobi, Kenya. After graduating from Boarding School in Kenya he applied and was accepted to be a part of the United World Colleges Program (UWC) studying for a year at their Hong Kong College. Through UWC placement programs he heard about and applied to Lake Forest College.   
While at LFC Gabe has been involved in a wide variety of groups and activities. He is a member and the former President of UMOJA (African Student Organization), a Gummere Fellow, College Council, and DEI Committee (Diversity, Equity, and Inclusion). This past year (2021) he served as the Coordinator of First Connection (a Pre-Orientation Program that provides information and support to help incoming student transition to life at LFC). Gabe was also a member of the Presidential Search Committee.   
This summer Gabe completed Monroe Capital's LLC Summer Internship program in its downtown Chicago Office.
Gabe wrote in his application: 
"The paradox of education of course is that the more you learn, the more you realize how little you know.  The most noble thing that an educated person can do is to pass down the knowledge to the coming generations to ensure the continuity of human development."  "The Plansoen Scholarship clearly recognizes the unique nexus between education and spiritual growth, and it is through it that I seek not just financial support, but more importantly an opportunity to be a part of a community that finds value in this very nexus."
We look forward to getting to know Gabe and we welcome his presence among us as a Plansoen Family Scholars for the 2022 – 2023 year.