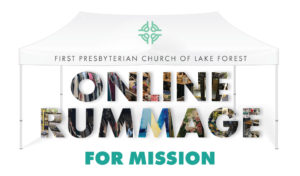 Due to the uncertainty of future large in-person sales, our Rummage for Mission sales are going virtual!
Rummage items will be available for purchase on fpclfrummage.givesmart.com. Our first round of sales will be summer items from our French and Bond departments, with more to come in the weeks ahead.
HOW IT WORKS:
Every 2 weeks we will be adding new selections from our wonderful rummage inventory.  Items will be available for immediate purchase at a fixed price.  Just click and pay (you will need to register your credit card prior to purchase).  
TO REGISTER:
CURBSIDE PICK-UP SCHEDULE:
Mondays 9:30 to 11:30 AM
Thursdays 9:30 to 11:30 AM and 3:00 to 5:00 PM
Use the 700 N. Sheridan Road parking lot and look for signs
Subscribe to our Facebook page for other items for sale: Rummage First Presbyterian Church Lake Forest
Mission dollars are crucial for our agencies during the current crisis  Thank you for supporting our efforts to raise needed funds. – The Rummage Team
How to Shop our Online Rummage Store