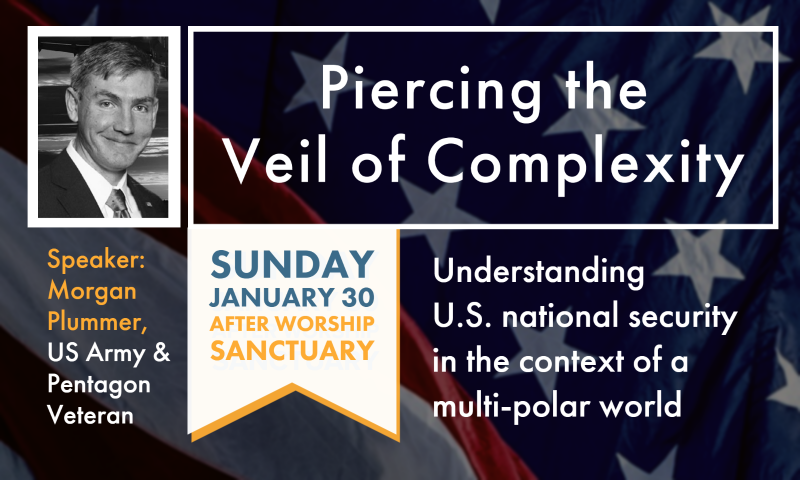 Sunday, January 30
After worship in the Sanctuary
Morgan Plummer, an area native & veteran of both the U.S. Army and the halls of the Pentagon, will share insights from more than 15 years of public service. He will share his perspectives on the world in which the U.S. finds itself, fraught with complexity abroad and rife with divisions at home, while discussing his own journey of faith while serving as both a soldier and policy-maker. Discussion will include Q&A.
About Morgan C. Plummer
Mr. Morgan Plummer serves as a defense & security subject matter expert, advising consulting teams in Boston Consulting Group's public sector practice area.
Before joining BCG, Morgan served as a senior defense official at the Pentagon for almost seven years. Most recently, Morgan served as the inaugural Managing Director of the National Security Innovation Network (NSIN), a program office inside the U.S. Department of Defense focused on developing emerging and disruptive technology in partnership with start-ups and universities. Prior to that, Morgan served as a political appointee in the Obama Administration, where he served in two separate positions: Special Assistant and Deputy Chief of Staff to the Undersecretary of the U.S. Army and Senior Advisor and Chief of Staff to the Undersecretary of Defense for Personnel & Readiness. In the latter role, he served as the principal deputy to the Department of Defense's Chief Human Resources Officer and as the project manager for Secretary of Defense Ash Carter's signature set of military and civilian personnel reforms, collectively referred to the 'Force of the Future' initiative. Morgan joined the Obama Administration after 11 years on active duty in the United States Army, where he served in a variety of command and staff assignments and completed multiple combat tours.
Morgan has received numerous meritorious service and achievement medals, been decorated for valor, and received the Office of the Secretary of Defense Medal for Exceptional Public Service. In addition to his military and civilian awards, Morgan holds degrees from Michigan State University and Georgetown University.
He currently resides in Naperville, Illinois, the hometown where he grew up.