We seek to be a place where 5-8th graders can form authentic relationships with one another, our church community, the world at large, and with God.
Register for Faith Formation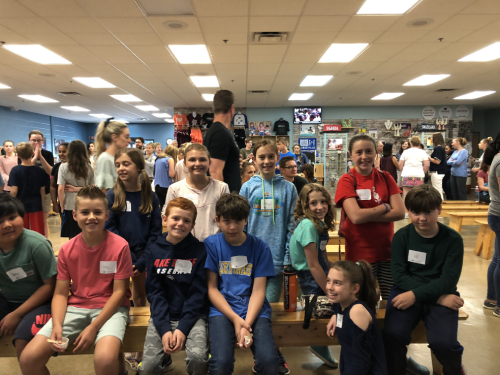 Sunday School & Confirmation
Sundays 9-10:15a.m., Sept 22 Through May 10
We invite 5-8th graders to begin together in worship in the Sanctuary at 9 a.m. on Sunday mornings.
• On the first Sunday of each month, on which Communion is served, everyone worships together in the Sanctuary.
• On the second – fifth Sundays of the month, following the Word for Children, 5-7th graders go to the Lower Level classrooms for Faith Building, and 8th graders go to the Youth Lounge for confirmation. Confirmation begins October 6 with a parent social. Visit our Confirmation page for more information.
If you are interested in working with our youth or children, please reach out to
Sarah Seccombe or Jim Cochrane.
Register for Sunday School, Confirmation and/or Youth Group here.
There are opportunities for 5-8th graders to help serve as worship leaders through readings, music, drama, and more! Contact Jim Cochrane if you're interested in getting involved.
Meets twice a month, September - May
Youth Group for 5-8th graders will meet through out the year for mission opportunities and fellowship. Information for the first event will go out via email, bulletin board, social media (like us on Facebook!), Faith Connections, and/or Sunday bulletin so keep your eye out!
5th-8th Grade Special Events 2019-2020
| | | |
| --- | --- | --- |
| SEPTEMBER | | |
| 8 | Work Trip Sunday | 10am |
| 15 | Fall Festival Sunday | 10am |
| 22 | Faith Building begins | 9am |
| OCTOBER | | |
| 18 | Stay-Treat Bonfire | tbd |
| 19 | Stay-Treat event | |
| 20 | Pumpkin Fest Fellowship | 10am |
| NOVEMBER | | |
| DECEMBER | | |
| 1 | Advent Wreath Making & Dinner | 5pm |
| 8 | Christmas Pageant | 9am |
| JANUARY | | |
| FEBRUARY | | |
| 23 | Children's Musical | 9 & 11am |
| 23 | Dinner & Trivia Night | 5:30pm |
| 26 | Ash Wednesday | |
| MARCH | | |
| 15 | Confirmation Sunday | 9am |
| | | |
| APRIL | | |
| 5 | Palm Sunday | |
| 10 | Good Friday | |
| 12 | Easter Sunday | |
| MAY | | |
| 17 | Fly-Up & Senior Sunday | 10am |
| 24 | Summer Worship begins | 10am |