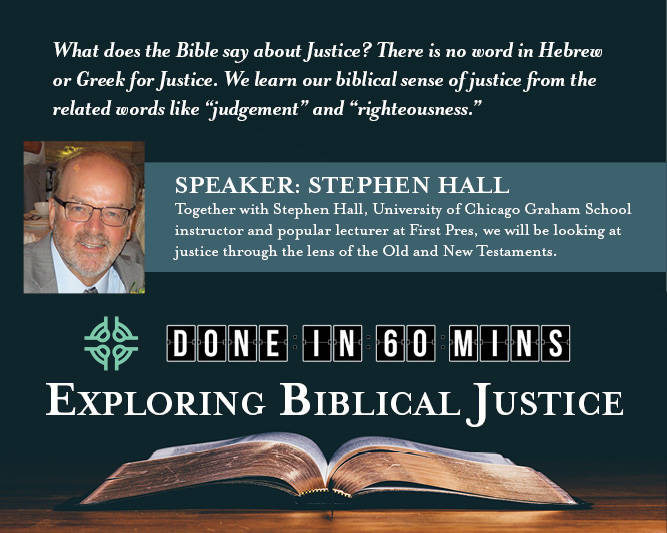 Our first virtual Done in 60 Minutes is a summer series, featuring Stephen Hall, which will explore justice through the lens of the Old and New Testament.
The lectures will be posted on our Vimeo and Facebook pages at 11:30 AM every other Sunday this summer. Then you can participate in a Zoom discussion, led by Stephen Hall himself, on the following Wednesdays at 7:30 PM. There is no need to register to tune in to the lecture, but registration is required to join the Zoom discussion.
→Click here to register for this coming Wednesday's discussion
We are only accepting registrations for one Wednesday at a time. Registration for discussion groups open on Fridays at 4:45 PM for meetings in the following week. 
---
After your feedback and further discussion in the first week of our first virtual Done in 60 Minutes, we have decided to expand the lectures and discussions through summer!
Lectures will be every other Sunday, with weekly discussions every Wednesday. You will have the opportunity to join one of the two Wednesday discussions after each lecture. The lecture and discussion schedule is as follows:
Sunday, July 12: Lecture on Justice in the Bible
To start our 4-week exploration in Biblical justice, Stephen Hall will give an overview of the meanings of justice in the Bible and the different contexts in which they appear, with Micah 6:8 as the basis of his discussion. Justice is a complex subject with multiple connotations throughout the Bible as we will see.
Monday, July 13: Zoom Discussion on July 12 lecture
Wednesday, July 15: Zoom Discussion on July 12 lecture
Wednesday, July 22: Zoom Discussion on July 12 lecture
→Click here to download the PowerPoint Presentation for Part 1
→Click here to watch the July 12 lecture
Sunday, July 26: Lecture on Justice in the context of Human Relations
In part two of Stephen Hall's four-part series on Bibilical justice, we will focus on justice in the context of human relations, namely political and social justice, through Deuteronomy 16:18-20.
Wednesday, July 29: Zoom Discussion on July 26 Lecture
Wednesday, August 5: Zoom Discussion on July 26 Lecture
→Click here to download the PowerPoint Presentation for Part 2
→Click here to watch the July 26 lecture
Sunday, August 9: Lecture on Justice between humanity and God
Wednesday, August 12: Zoom Discussion on August 9 Lecture
Wednesday, August 19: Zoom Discussion on August 9 Lecture
→Click here to download the PowerPoint Presentation for Part 3
→Click here to watch the August 9 lecture
Sunday, August 23: Lecture on Divine Justice in the World
Wednesday, August 26: Zoom Discussion on August 23 Lecture
Wednesday, September 2: Zoom Discussion on August 23 Lecture