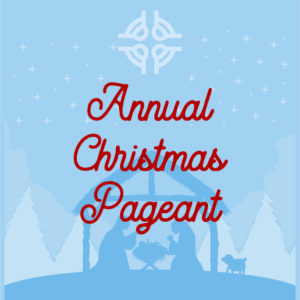 The Christmas Pageant will be pre-recorded this year!
The manger scene will be recorded outdoors on Saturday, November 21.
9:30-10am - get your costume at the church
10-11am - recording
As part of their costumes, new masks will be given to the children participating.  Because we will be recording outdoors, please see below for suggestions of what your children should wear under their costumes.
Sheep (ages: preschool and up) - their costume is a sheep's head covering and tail to be pinned onto their clothing.  White or black outfits are best - suggestions are: jammies, leggings, sweat pants and sweat shirts type items.
Shepherds (ages kindergarten and up) - their costumes include a cloth tunic, belt, head piece and head wrap.  Suggested outfits include solid colored earth tones, dark jeans or khaki pants, and long sleeved shirts or sweatshirts for under the tunics.
Angels (ages kindergarten and up) - their costumes include a white gown and halo headband. Suggested outfits include white or light solid colored pants and long sleeved shirt for under the gown.
*Scripture and costumed readers will be record indoors, individually at scheduled times.
For questions or more information please contact Sarah Seccombe at sseccombe@firstchurchlf.org.
The Pageant will be posted on our website and
streaming services on Christmas Eve!